Our Family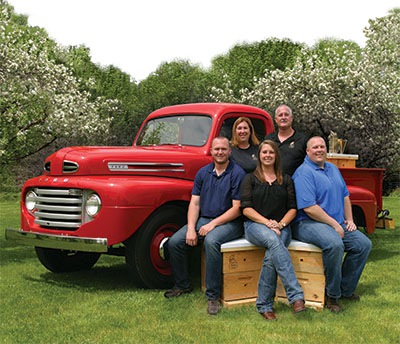 How Our Honey Came To Bee
Stein Honey has been a family tradition since 1998. Our humble beginnings started with just two beehives purchased to pollinate apple trees in the yard. Twenty one years later, we own more than 900 hives and produce thousands of pounds of honey annually. We also use our bees to produce comb honey and cream honey while the byproduct of beeswax is used for candles. We ensure nothing goes to waste.
Our products are all natural, and made with pride. We invite you to try and enjoy Stein Honey.
Our Hive
Stein Honey is a family affair. We do our own beekeeping and production in-house. We tend to our bees and provide them the utmost care.
Our three children, Josh, Wes, and Megan, grew up beekeeping, helping with bottling, labeling, and deliveries. They have all left the "hive" with careers of their own, but still pitch in during extraction season and dive in where needed.
Stein Honey is a tradition that has grown with our family. We look forward to passing it on for generations to come.